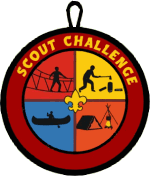 Scout Challenge is a fun program to reward scouts for actively participating in scout events and expanding the Scouting influence in their every-day lives.
By encouraging scouts to complete certain tasks, the depth and breadth of your unit's scouting grows the direction you want.
Scouts
You track your completion of the current Scout Challenge and receive recognition when you finish.
The Scout Challenge is completely On Your Honor and you track your progress.
When a Challenge Item is completed, enter your completion date.
Receive recognition patches and pins to collect.
Unit Leaders
You design and monitor your unit's customized Scout Challenge - see a Sample Challenge.
Completely customized to your unit's goals. Would you like scouts to complete more merit badges, or get better at knots, or provide more service? Add more Challenge Items that promote your goals.
Create Challenge Items specific for your unit, or choose from a long list of premade tasks.
View the status of each scout towards completion.
View past Scout Challenges to help prepare upcoming years.
Encourage Packs or Troops in your area to start their own Scout Challenge so Cubs can continue their collection of pins all the way through their Scouting career.
Order recognition patches and pins for your scouts.
Two patch style choices.
Pins recognize scouts every year.
Consider adding 'adult only' Challenge Items so those great volunteers can also be recognized each year.
Why Bother?

Use Scout Challenge because it's an easy, fun, and inexpensive way to make your program more interesting and rewarding.
How many awards are there that grow with a Cub Scout progressing through to Boy Scouts and Venturing? There are none
Would your scouts like a patch to which a pin can be added every year? Absolutely
When Cub Scouts cross over into a Boy Scout troop, they can continue to earn pins.
The award has significance each year since the requirements change.
There are many helpful activities scouts do that receive no recognition. With Scout Challenge, you can encourage those activities and recognize them in a fun, tangible way.
It provides a continuity from Pack to Troop, promoting improved retention.
Older scouts can be challenged to push themselves and remain active.
Check the Price