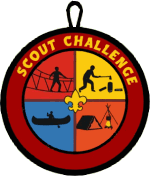 Scout Challenge is a free resource to make your scouting program more fun.

It is also a free part of a tool box for scout groups, called Troop Kit.

If you already have a Troop Kit account, then just Use It to log on now.
---
When you register, you will actually create an account for your scouting group that can be used for both Scout Challenge and Troop Kit.
You can use Scout Challenge without using Troop Kit.
You can use Troop Kit for free for 3 months, if you'd like to give it a try. After that, it costs just $18 per year for your whole scouting group.
Your registration for Scout Challenge is free forever - the only expense is if you purchase the cool patches for your scouts.
You can Learn More about Troop Kit.
Or, Continue to Register.